A.L.M.T. Corp. promotes an environmental management and education system created from the global perspective to realize environmental symbiosis in accordance with the Environmental Management Policy of the Sumitomo Electric Group.
A.L.M.T. Corp. considers the environmental preservation activity on the global scale is one of the most important issues for corporative management based on the management philosophy of the Sumitomo Electric Group and has established the "Environmental Policy."
Basic Philosophy
A.L.M.T. Corp. manufactures tungsten/molybdenum powders and products, cemented carbide products, heatspreader products, and grinding wheels and drawing dies made of diamond. In order to minimize impact on natural environment in our production operations, we have established the following environmental policy and management and all other company members will join hands to promote the continual environmental preservation activity.
Action Guidelines
In full recognition of impact of our production activities and products on environment, build an environmental management system in compliance with ISO 14001, promote continual improvement and commit ourselves to reducing environmental load and preventing environmental pollution.
Commit ourselves to complying with relevant environmental legislations, ordinances and agreements and with other requirements to which A.L.M.T. Corp. subscribes.
Place a priority on the following in our business activities:

Acquire customer satisfaction by reducing product claims and defectives and utilize resources effectively.
Use energy efficiently.
Use resources effectively by promoting zero emission activities.
Manage chemical substances properly.

Communicate this Environmental Policy to all members through educational programs and internal PR activities to enhance their awareness and at the same time, request suppliers for their understanding and cooperation in environmental preservation.
Established on July 1, 2010
Organization for Promoting Environmental Management
The Corporate Safety Environment Committee is the supreme organization for making decisions related to environmental management. It oversees the environmental preservation activities of our Group including the affiliated companies in Japan and overseas on a global basis.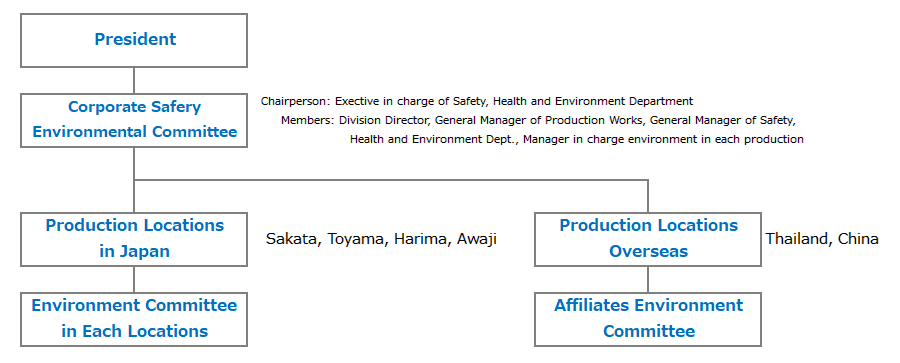 Environmental Policy of Domestic Production sites
Each production site determines an environmental policy based on that of A.L.M.T. Corp., and establishes an environmental management system to promote continuous improvement. The activities were accredited by a third-party and are in compliance with ISO 14001.
To see the whole table scroll down.
Production Base
ISO14001 Certified
Certification Authority
Logo
Date Acquired
Sakata
Toyama
Harima
Awaji
JQA-EM4199
JQA
2004/9/3
Environment Preservation Activities
A.L.M.T. Corp. conducts periodic CSR activities involved in environmental preservation of local communities as part of our environmental preservation activities.