Processing evaluation/analysis center
The CSC (Customer Solution Center) helps solve problems encountered by customers. It is equipped with machines and analytic instruments, along with experienced staff; to find the best solutions for our customers.
Process flow from accepting requests to proposing solutions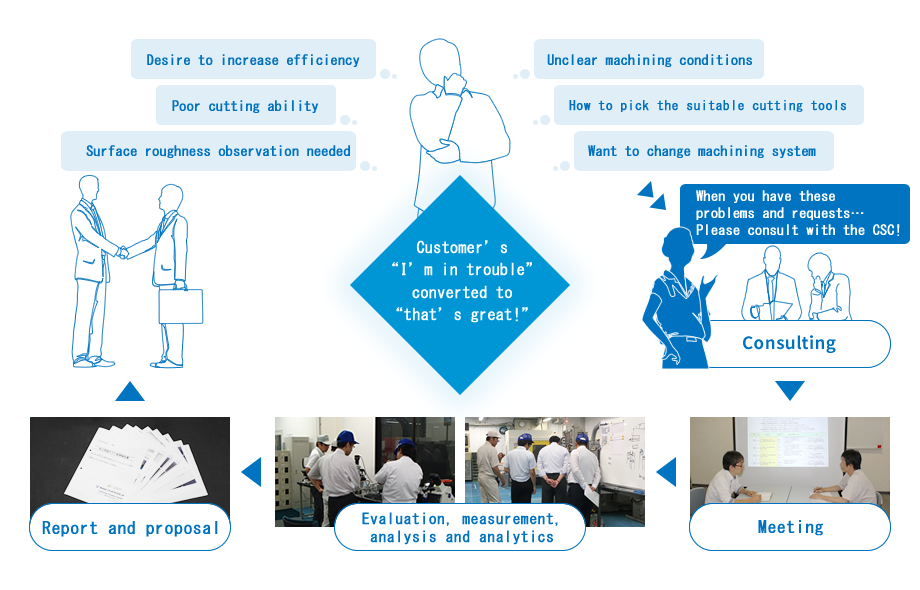 The strengths of the Customer Solution Center
Best evaluations made using various equipment and facilities.

A one-stop for all evaluations.

Swift & accurate evaluations made by experienced staff.

Best solutions proposed to solve any problem.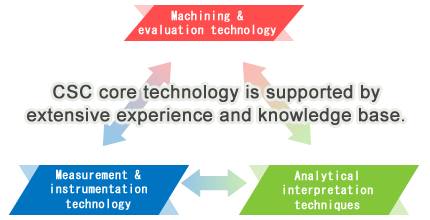 Machining and evaluation
With varied equipment dedicated to evaluation, we can evaluate according to specific customer needs.
Analysis and analytics
The CSC has electron microscopes, element analyzers, surface profile analyzers, etc., ready to respond to various measurement and evaluation requests.
3D surface analysis

Latest equipment are used to analyze workpieces and used tools to optimize machining conditions and tooling development.
3D flatness analysis

Profiles of workpieces such as "waviness" and "warp" can be analyzed.
Electron microscope and element analysis

Tooling and workpiece analysis enable best selections of machining methods.
Observations under electron microscopes

Observations of abrasives and workpieces lead problem solving clues.
Measurement and instrumentation
The various measurement & instrumentation at the CSC are capable to respond to vastly diversified evaluation requests.
High speed cameras

Used to verify machining styles to optimize tooling and machining conditions.
Cutting / grinding resistance

The machining load such as grinding/cutting resistance and current forces can be identified.
Ultra-fine abrasive wheel grinding

Characteristics of machining of semiconductor materials, etc., are identified for best machining conditions and specifications selections.
Measurement of roundness and cylindricity

These can be measured immediately after machining to reflect findings in tooling and machining conditions.
Other services
We support customers in varied situations.
Evaluation with customers
Workshops and seminars
Exhibitions
Please feel free to contact us

Inquiries by email

Inquiries by phone